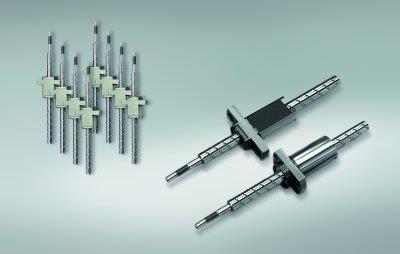 A new high-speed series of miniature large-lead ball screws from NSK Linear Motion Control offers a number of important benefits to users, including reduced product takt time, the potential to downsize equipment, and reduced power consumption. Among the applications set to benefit are semiconductor chip mounters and parts aligning equipment.
The performance attributes of the new ball screws, together with a large lead and small diameter, make the products optimal for equipment used in the semiconductor industry, where demands include exceptionally high levels of throughput and chip mounting accuracy.
NSK has successfully reduced the load on motors by making the ball screw shaft diameter as small as possible to reduce inertia, while at the same time increasing the lead through the introduction of new manufacturing technologies. Furthermore, by adopting the company's end deflector recirculation system, which offers high speed and low noise characteristics, NSK has succeeded in achieving rotational speeds of up to 5000 rpm. These advanced capabilities are ideal for chip mounters and other such equipment that requires a relatively short stroke, enabling operation at high acceleration/deceleration, as well as traverse speeds exceeding 1.25 m/sec. This speed surpasses the performance of linear motors to ensure the easy reduction of takt time.
The miniature large-lead ball screw, which is part of NSK's Compact-FA series and available on a short lead time, can also replace small air cylinders as it offers both highspeed and high-precision multipoint positioning. Importantly, the range is environmentally friendly, free from any hazardous substances, thus helping to support the sustainability credentials of NSK customers.
Both 6 and 8 mm shaft diameters are available alongside the largest lead options in its class: 8, 10, 12 and 15 mm. A low-profile nut, which reduces flange and nut heights by up to 33% compared with conventional ball screws, contributes to the downsizing of machines and, in turn, reduces power consumption.
Among the available options is NSK's K1 lubrication unit, which slowly exudes lubricating oil from its resin component to provide long-term maintenance-free operation.
Further information is available at www.nsk-literature.com/en/compact-fa-ball-screws
Über die NSK Deutschland GmbH
NSK Europe Ltd. is the European organisation of the Tokyo-based bearing manufacturer NSK, which was founded in Japan in 1916 and today employs nearly 30,400 people in its worldwide operations. The products and solutions provided by the industrial and automotive supplier can be found wherever things move. In addition to nearly all types of rolling bearings, the company's portfolio includes housed bearings, linear technology, wheel bearing units, transmission and engine bearings and steering systems. The company is oriented to perfection in all of its business activities. Its aim is quality leadership in its industry, which it strives for through a continuous process of improvement, excellent product development, optimised production processes and customer-oriented service processes. In fiscal year 2020, the more than 4,350 employees of NSK Europe Ltd. generated sales of over € 792 million.
[url=http://www.nskeurope.com]www.nskeurope.com[/url]
Firmenkontakt und Herausgeber der Meldung:
NSK Deutschland GmbH
Harkortstrasse 15
40880 Ratingen
Telefon: +49 (2102) 4810
http://www.nskeurope.de
Ansprechpartner:
Marie-Dominique Pilath
Telefon: +49 (2102) 4811280
E-Mail: pilath-m@nsk.com
Für die oben stehende Pressemitteilung ist allein der jeweils angegebene Herausgeber (siehe Firmenkontakt oben) verantwortlich. Dieser ist in der Regel auch Urheber des Pressetextes, sowie der angehängten Bild-, Ton-, Video-, Medien- und Informationsmaterialien. Die United News Network GmbH übernimmt keine Haftung für die Korrektheit oder Vollständigkeit der dargestellten Meldung. Auch bei Übertragungsfehlern oder anderen Störungen haftet sie nur im Fall von Vorsatz oder grober Fahrlässigkeit. Die Nutzung von hier archivierten Informationen zur Eigeninformation und redaktionellen Weiterverarbeitung ist in der Regel kostenfrei. Bitte klären Sie vor einer Weiterverwendung urheberrechtliche Fragen mit dem angegebenen Herausgeber. Eine systematische Speicherung dieser Daten sowie die Verwendung auch von Teilen dieses Datenbankwerks sind nur mit schriftlicher Genehmigung durch die United News Network GmbH gestattet.