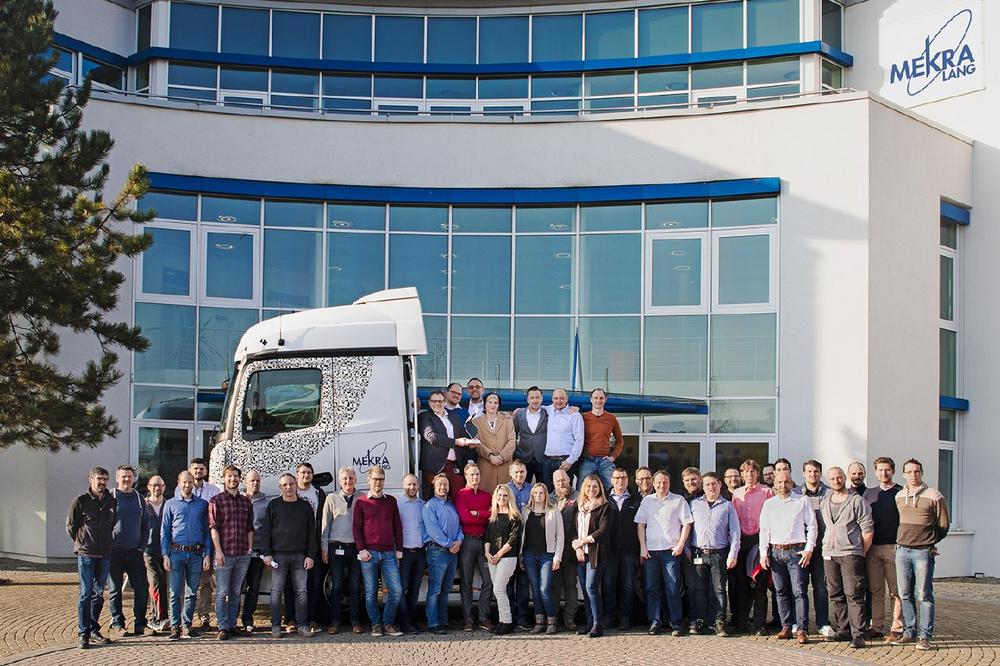 MEKRA Lang receives the Daimler Supplier Award in the "Innovation" category for the world's first digital system to replace the rear-view mirror on series-produced trucks.
Around 450 Daimler AG partners and key suppliers from 30 countries were invited to the Carl Benz Arena in Stuttgart on 20 February 2019.
The motto of this event, "VISION. VENTURE. VALUE." anchors Daimler's strategic focus, which encourages suppliers even more intensively to actively advance the further development of transformation and digitization together and to contribute ideas.
Against this background, MEKRA Lang received Daimler's Supplier Award in the "Innovation" category for the revolutionary Digital Vision System, which will go into series production in the new Mercedes-Benz Actros in 2019. In future, the mirror replacement system will replace the exterior mirrors of the Actros and not only reduce the fuel consumption of the Actros through improved aerodynamics, optimized ergonomics and perfect night vision, but also offer a greatly improved all-round view. This makes the Actros the world's first truck with digital rear-view mirrors in series production.
Dr. Marcus Schoenenberg, Head of Global Procurement Daimler Trucks & Buses, presented the Supplier Award to Managing Director Dr. Werner Lang and paid tribute to MEKRA Lang's innovation with the words: "This innovation makes our new Actros the first Mercedes-Benz series production in the world to feature digital rear-view mirrors. Elegant, efficient and safe: You have taken this technology to the next level."
The Daimler Supplier Award is presented annually by Daimler AG in recognition of above-average performance and partnership with its suppliers. This award, which is highly valued in the automotive industry, is measured in terms of quality, partnership and innovation. It also assesses cost-effectiveness, delivery reliability and sustainable behavior based on trust and open communication. Daimler Trucks & Buses Purchasing Manager Dr. Marcus Schoenenberg on the significance of the award: "The Daimler Supplier Award says a lot about the award winner: He had a vision, dared a lot and then successfully implemented it! Three of our Trucks & Buses partners were able to say this with pride on 20 February".
Together with Sales Manager Jan Snel and Key Account Manager Michael Hornung, Dr. Werner Lang was delighted with this recognition of the achievements of MEKRA Lang and his entire team. His special thanks also went to the cooperation with the customer Daimler and the partners BOSCH and Solectrix, whose outstanding support made this innovation possible.
Following the Daimler Supplier Awards for MEKRA Lang in the "Exterior" category in 2008 and in the "Performance" category in 2012, the Central Franconian company has now received the prize in the "Innovation" category. This makes MEKRA Lang the first supplier to be honored by Daimler AG for its outstanding performance for the third time.
MEKRA Lang, we set the standard for the next dimension of indirect vision!
Über die MEKRA Lang GmbH & Co. KG
MEKRA Lang GmbH & Co. KG is the leading manufacturer of mirror systems for commercial vehicles as well as specialized camera monitor systems for automotive applications worldwide. As an innovative and recognized expert for indirect vision, we work together with all major commercial vehicle manufacturers to ensure more safety on the roads. At our 21 locations in 13 countries we employ a total workforce of about 2930 with 1480 employees in Ergersheim/ Central Franconia.
Firmenkontakt und Herausgeber der Meldung:
MEKRA Lang GmbH & Co. KG
Buchheimer Straße 4
91465 Ergersheim
Telefon: +49 (9847) 989-0
Telefax: +49 (9847) 989-200
http://www.mekra.de
Ansprechpartner:
Elisabeth Döbler-Scholl
Geschäftsleitung/Vice-President
Telefon: +49 (9847) 989-933
E-Mail: elisabeth.doebler-scholl@mekra.de
Eric Fürstmann
PR MA Event
Telefon: +49 (9847) 989-8335
E-Mail: Eric.Fuerstmann@mekra.de
Für die oben stehende Pressemitteilung ist allein der jeweils angegebene Herausgeber (siehe Firmenkontakt oben) verantwortlich. Dieser ist in der Regel auch Urheber des Pressetextes, sowie der angehängten Bild-, Ton-, Video-, Medien- und Informationsmaterialien. Die United News Network GmbH übernimmt keine Haftung für die Korrektheit oder Vollständigkeit der dargestellten Meldung. Auch bei Übertragungsfehlern oder anderen Störungen haftet sie nur im Fall von Vorsatz oder grober Fahrlässigkeit. Die Nutzung von hier archivierten Informationen zur Eigeninformation und redaktionellen Weiterverarbeitung ist in der Regel kostenfrei. Bitte klären Sie vor einer Weiterverwendung urheberrechtliche Fragen mit dem angegebenen Herausgeber. Eine systematische Speicherung dieser Daten sowie die Verwendung auch von Teilen dieses Datenbankwerks sind nur mit schriftlicher Genehmigung durch die United News Network GmbH gestattet.