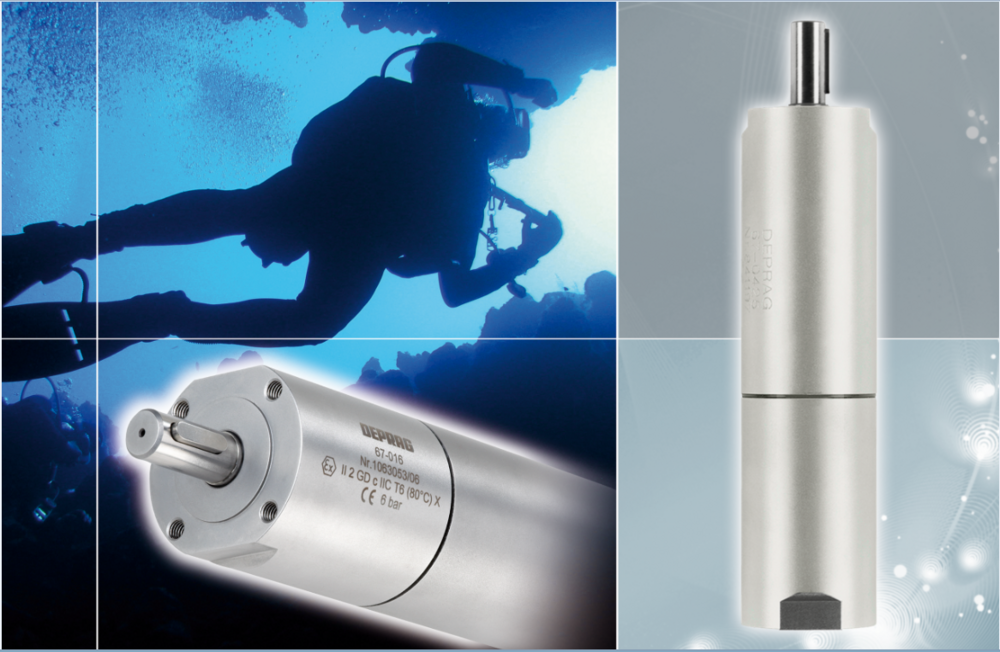 Stirring and mixing underwater
"Anything is possible" is the motto of the DEPRAG engineers. They do not rush their client consultations. If there is no suitable air motor for the planned application in their catalogue then they explore individual drive solutions. The air motors have a wide spectrum of use due to their diverse application possibilities, simple design, low performance weight, broad speed range and explosion safety. DEPRAG air motors are used in almost every field of industry – even underwater.
The ADVANCED LINE air motor series combines many advantages with their high quality stainless steel drives. Due to the robust design of the external parts in non-corrosive stainless steel and the sealing with two radial shaft sealing rings, these vane motors in the power range 120 W to 1.2 kW are predestined for use underwater.
For underwater applications it is vital to consider how the motor will be deployed and at what water depth it will be operated. If the air motor has to start underwater it can be used up to a depth of 5 metres only. Whereas if it is started on the surface it can be immersed up to a depth of 20 metres.
If there are additional requirements to tackle or if the air motor is needed for use in salt water then further modifications must be made to the housing material and to the sealing, and the internal parts should be coated to prevent corrosion.
In order to select the most suitable air motor for the customer's application, intensive advance discussions must take place with the client in order to gain as much insight as possible into the application. This example gives a more detailed description of what the DEPRAG engineers can realise for a customer: A motor was needed for use in an acidic solution as a mixing drive for circulating the fluid and evenly stirring in minerals. In order for a motor to be designed which would withstand its surrounding conditions, the following questions needed to be answered: Which acid was being used? What concentration of acid is in the fluid or is derived from the fluid: what kind of stainless steel material is stipulated?
The application is the decisive factor! In this case they selected a stainless steel motor from the ADVANCED LINE series with a special requirement to be insensitive to acid. Additionally, a housing was designed which was made from suitable acid-resistant material and with a special sealing to prevent infiltration of any liquid. In order for the air motor to provide the required torque for the application, further consideration of the operating conditions had to be made, such as the available operating pressure, required hose length etc. The technical data of DEPRAG air motors is based on an operating pressure of 6 bar. If the available pressure is lower than this, the torque is reduced proportionally. When using hose lengths longer than 3 metres the hose cross-section opening should be increased correspondingly.
Robust stainless steel motors are also sought-after in the paper industry. For example, when preparing the materials used in producing paper: Depending on the type of paper, mechanical or chemical pulp, as well recycled paper fibres are mixed in a certain ratio and dissolved in water. Furthermore, chemical fillers and auxiliary materials are intermixed. This aggressive "mush" must be stirred constantly. The most suitable drive solution for this application would be the air motor special design with acid-resistant stainless steel housing (e.g. AISI 316).
If an air motor should be sterilisable, as often required in the medical technology industry, it should be equipped with special vanes. There are innumerable examples of applications where it is beneficial to speak directly with the manufacturer of the air motor in advance about the task and to describe it in detail before any design work starts.
For more demanding requirements such as use in cleanroom environments in the food or pharmaceutical industries, the manufacturer can offer a stainless steel motor from their ADVANCED LINE product range which provides sealed, unlubricated, non-corrosive air vane motors. In such cases as these, the motor's exhaust hose is fed out of the cleanroom. The ADVANCED LINE vane motors are ATEX certified, reversible and even available with integrated holding brake. Their power ranges from 20 W to 1.2 kW, from low speeds to sprinters.
The air motor is very flexible; it can be optimally operated in a wide range of alternating loads. The motor performance can be adjusted by altering the operating pressure and the speed can be controlled smoothly by throttling the air supply. Damage from overload is almost impossible. If the air motor reaches stalling torque (about double the nominal torque) then the air motor just stops. As soon as the load decreases it starts running again and this can occur time and again with no damage to the motor.
Über DEPRAG SCHULZ GMBH u. CO.
DEPRAG SCHULZ GMBH u. CO. has been using compressed air as a working medium for many decades. DEPRAG air motors are well established on the international market. Innovations and continuous improvements of existing product lines have made this medium-sized machine building firm into a leading manufacturer. DEPRAG's standard programme offers a wide range of options and from this modular system, individual drive solutions can be developed and produced at an attractive price-performance ratio. DEPRAG's other core competencies include screwdriving technology, automation and air tools. The owner-managed family business based in Amberg, Germany employs 600 employees and has representatives in over 50 countries.
Firmenkontakt und Herausgeber der Meldung:
DEPRAG SCHULZ GMBH u. CO.
Carl-Schulz-Platz 1
92224 Amberg
Telefon: +49 (9621) 371-0
Telefax: +49 (9621) 371-120
http://www.deprag.com
Ansprechpartner:
Dagmar Dübbelde
Pressekontakt
Telefon: +49 (9621) 371-343
Fax: +49 (9621) 371-199
E-Mail: d.duebbelde@deprag.de
Für die oben stehende Pressemitteilung ist allein der jeweils angegebene Herausgeber (siehe Firmenkontakt oben) verantwortlich. Dieser ist in der Regel auch Urheber des Pressetextes, sowie der angehängten Bild-, Ton-, Video-, Medien- und Informationsmaterialien. Die United News Network GmbH übernimmt keine Haftung für die Korrektheit oder Vollständigkeit der dargestellten Meldung. Auch bei Übertragungsfehlern oder anderen Störungen haftet sie nur im Fall von Vorsatz oder grober Fahrlässigkeit. Die Nutzung von hier archivierten Informationen zur Eigeninformation und redaktionellen Weiterverarbeitung ist in der Regel kostenfrei. Bitte klären Sie vor einer Weiterverwendung urheberrechtliche Fragen mit dem angegebenen Herausgeber. Eine systematische Speicherung dieser Daten sowie die Verwendung auch von Teilen dieses Datenbankwerks sind nur mit schriftlicher Genehmigung durch die United News Network GmbH gestattet.